We just wrapped up the 3Q20 reporting period for all the Telecommunications Infrastructure programs covered at Dell'Oro Group. Preliminary estimates suggest the overall telecom equipment market – Broadband Access, Microwave & Optical Transport, Mobile Core & Radio Access Network, SP Router & Carrier Ethernet Switch (CES) – advanced 9% Year-Over-Year (Y/Y) during 3Q20 and 5% Y/Y for the 1Q20-3Q20 period.
The analysis contained in these reports suggests revenue rankings remained stable between 2019 and 1Q20-3Q20, with Huawei, Nokia, Ericsson, ZTE, Cisco, Ciena, and Samsung ranked as the top seven suppliers, accounting for more than 80% of the total market. At the same time, revenue shares continued to be impacted by the state of the 5G rollouts in highly concentrated markets.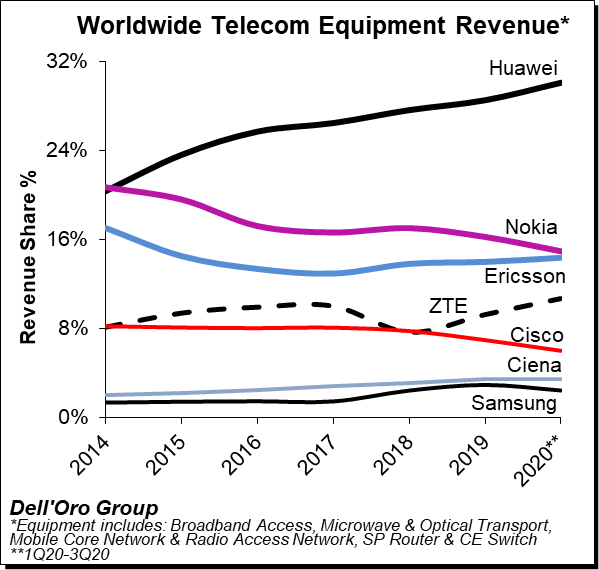 We estimate the following revenue shares for 2019 and the 1Q20-3Q20 period for the top seven suppliers:
| | | |
| --- | --- | --- |
| Top 7 Suppliers | Year 2019 | 1Q20 to 3Q20 |
| Huawei | 28% | 30% |
| Nokia | 16% | 15% |
| Ericsson | 14% | 14% |
| ZTE | 9% | 11% |
| Cisco | 7% | 6% |
| Ciena | 3% | 3% |
| Samsung | 3% | 2% |
Additional key takeaways from the 3Q20 reporting period include: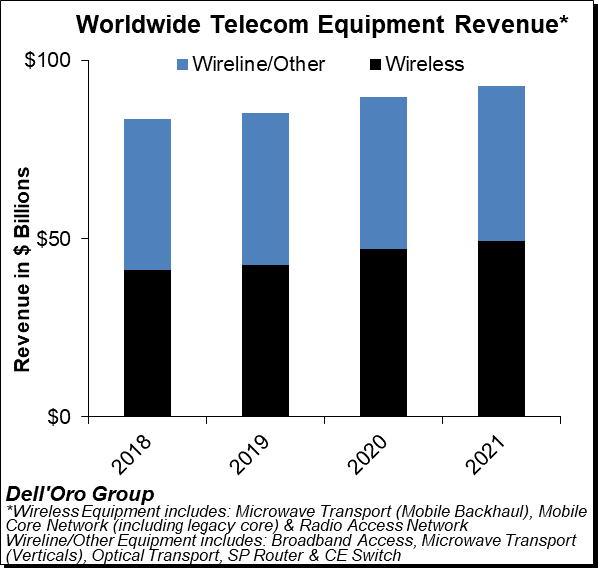 Following the 4% Y/Y decline during 1Q20, the positive trends that characterized the second quarter extended into the third quarter, underpinned by strong growth in Optical Transport and multiple wireless segments including 5G RAN, 5G Core, and Microwave Mobile Backhaul. Technology segments that were impacted more materially by COVID-19 and the lockdowns during 1Q20 continued to stabilize in the quarter.
Preliminary estimates indicate increasing Mobile Infrastructure and Optical Transport revenues offset declining investments in Microwave Transport and SP Routers & CES for the 1Q20-3Q20 period.
The overall telecom equipment market continued to appear disconnected from the underlying economy. While the on-going transition from 4G to 5G is helping to offset reduced capex in slower-to-adopt mobile broadband markets, we also attribute the disconnect to the growing importance of connectivity and the nature of this recession being different than in other downturns improving the visibility for the operators.
With investments in China outpacing the overall market, we estimate Huawei and ZTE collectively gained about 3 percentage points of revenue share between 2019 and 1Q20-3Q20, together comprising more than 40% of the global telecom equipment market.
The Dell'Oro analyst team has not made any material changes to the overall outlook and projects the total telecom equipment market to advance 5% to 6% in 2020 and 3% to 4% in 2021. Total telecom equipment revenues are projected to approach $90 B to $95 B in 2021.
Dell'Oro Group telecommunication infrastructure research programs consist of the following: Broadband Access, Microwave Transmission & Mobile Backhaul, Mobile Core Networks, Mobile Radio Access Network, Optical Transport, and Service Provider (SP) Router & Carrier Ethernet Switch.