Spring is time for renewal and we are fresh off some energizing discussions at vendor conferences by HPE Aruba, Juniper, and Extreme Networks. May is a great time to round up some of the major Wireless LAN (WLAN) vendor announcements of the first part of the year. We're seeing four key themes emerging in manufacturers' strategies and these trends will have impacts on the WLAN market and its evolution.
AI is everywhere – WLAN is no exception
Artificial Intelligence promises to solve some of the world's most intractable problems, and the intractable problem in WLAN is network management complexity. Enterprise IT teams are struggling to solve bad coverage, interference, and congestion while at the same time, dealing with trouble tickets that are caused by application or WAN-level issues. When user experience is bad, it's always the Wi-Fi that gets blamed.
Juniper Mist has led the market's mindshare around AI-Ops and micro-services architectures for enterprise networking. Further enhancements to Mist were announced at Mobility Field Day, with Marvis (Juniper's virtual assistant) now leveraging the summarization skills of ChatGPT. Juniper has also announced they will be gathering network and user feedback from Zoom's videoconferencing application which will allow their AI engine to predict the quality of videoconferences that take place in the future.
Meanwhile, HPE has introduced the next generation of Aruba Central in Greenlake, with a whole new solar-system look. In their slick demo at Atmosphere, they highlighted the Time Travel feature that allows the IT team to rewind to the moment of a moment of network degradation and visualize the network metrics at exactly that moment.
High-end AI features tend to arrive first with the public cloud-managed solutions. In 4Q22, only 25% of the world's units were shipped into public-cloud managed networks, giving them a premium feel and demonstrating that there is room to grow the market. These solutions generate the recurring revenue streams the vendors are chasing, with the added bonus of boosting margins.
AI-Ops is the next frontier of innovation in campus networking and manufacturers are hoping that the savings in enterprises' IT expenses will be transferred to their bottom line. We are predicting the revenue from these features will continue to grow, and that pubic-managed WLAN solutions will make up over 40% of WLAN manufacturer revenues in 2027.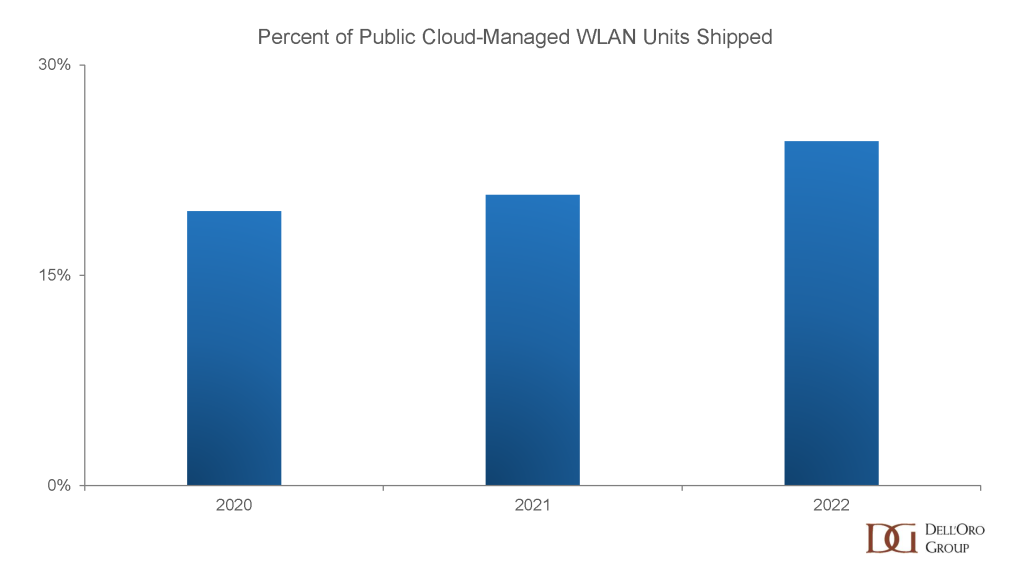 Wi-Fi 6E expands its foothold
Wi-Fi 6E APs have been slow to take hold in the market (for an explanation as to why this is, see Checking in on enterprise-class Wi-Fi 6E) with vendors such as Extreme, HPE Aruba and Cambium leading the pack in Wi-Fi 6E adoption. However, in the first part of the year, there have been some announcements that will help accelerate 6E take-up.
Commscope Ruckus kicked off the year by announcing a new 2×2 Wi-Fi 6E AP (the R560) aimed at the MDU market. Then, a couple of weeks ago, Arista presented the C330 AP, a 2×2 product that will be available in June. In their Atmosphere conference, HPE pointed to the 615 AP as their affordable 6E option and promised a new 6E AP to come for the hospitality segment. Juniper then introduced the AP24, a lower cost, 2×2 product. Finally, at their conference in Berlin, Extreme Networks revealed the availability of the AP3000, claiming it to be the world's smallest and greenest Wi-Fi 6E AP.
The introduction of more Wi-Fi 6E 2×2 products will help to bring the average price down, which until now has remained higher than historical precedents set by WLAN technologies. However, we are predicting that the life-cycle of the protocol will be shorter than previous technologies. While some major vendors point out that Wi-Fi 7 standards have not yet been ratified by the IEEE, manufacturers in China are already shipping low volumes of Wi-Fi 7 enterprise-class APs, and Ruckus has revealed that the company is working on a Wi-Fi 7 / cellular combination product.  Dell'Oro group is predicting that Wi-Fi 6E shipments will hit their peak in 2024 as the new 802.11be (Wi-Fi 7) APs gain traction.
Network Access Control moves to the Cloud
The Network Access Control market is dominated by Cisco ISE and Aruba ClearPass. Last year, Juniper made a move to shore up this leak in its portfolio by acquiring WiteSand, a startup focusing on cloud-native zero-trust Access Control solutions. Arista has made no secrets of its ambitions in enterprise networking sector, and at the end of April, the company announced Agni, its cloud-based NAC, expected in the second quarter. Tellingly, Arista has put effort into ensuring that a customer can easily migrate from an existing NAC system, such as ClearPass. At the end of April, Extreme Networks CEO, Ed Meyercord, let it slip on their earnings call that Extreme would also be "cloudifying" their NAC solution, with an official announcement to come.
The Network Access Control market is small, but these recent vendor announcements demonstrate that placing this function in the cloud is a strategic move to lock up WLAN and campus switching revenues. These are wise choices as we approach what Dell'Oro Group is predicting will be a difficult 2024. We expect campus networking revenues will contract as the market digests the tsunami of orders that have been tangled in backlogs. Vendors will be looking for all the enterprise stickiness they can get.
Campus NaaS broadens its appeal
The Campus NaaS market is emergent and messy, giving ample opportunity for new players to differentiate themselves. We've already discussed a framework for the types offers available, showing that new entrants like Shasta Cloud, Meter, Nile, and Ramen Inc have thrown down the gauntlet to incumbents (Dell'Oro Campus NaaS & Public Cloud-Managed LAN Advance Research Report) –but the Camps NaaS market just became even busier.
HPE Aruba announced Agile NaaS at Atmosphere, touting that the standardized NaaS SKUs will enable their MSP partners to sell 75 cents on the dollar of additional services.  In Extreme Network's April earnings call, CEO Ed Meyercord announced investing in R&D to package a solution that will simplify MSPs' delivery of managed services. Our confidential discussions with several vendors confirm that there is a wide interest in this type of offer, with new announcements on the horizon.
Different service providers mean different things when they sell Campus NaaS; however, one common element is the generation of recurring, high-margin revenues. The size of the dent that new offers will make in the market, and the likelihood they can create new revenue streams, are two market uncertainties that are playing out at this very moment.
With these four key trends in the WLAN industry, manufacturers are increasing both the depth and breadth of their offers, enhancing their technological and commercial appeal. The WLAN industry has seen record growth over the past two years. As we enter a more challenging market environment, manufacturers will need improvements such as these to maintain their customer base while they turn their sites to expand to new markets.