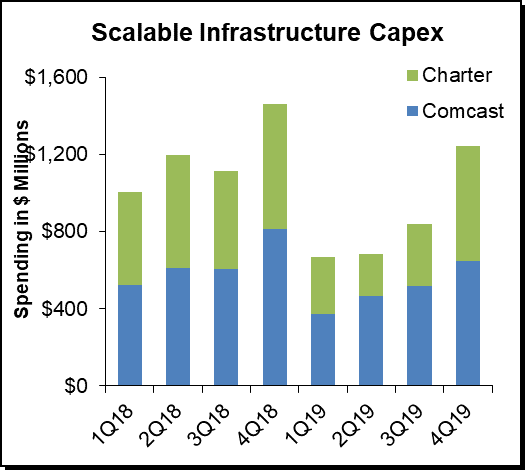 Let's face it, cable equipment vendors are certainly happy to put 2019 behind them. A glut of DOCSIS channel capacity, the lack of significant competitive threats, and indecision around DAA technologies and timing all resulted in a spending slowdown that lopped off 35% of total DOCSIS infrastructure revenue, year-over-year. Traditional, centralized CCAP platforms bore the brunt of the reductions, with total revenue down 41% year-over-year.
On the bright side of things, each successive quarter in 2019 showed an improvement in scalable infrastructure spending by two of the world's largest cable operators: Comcast and Charter Communications. In fact, the fourth quarter of 2019 saw a return to a normalized spending level for the combined operators, with Charter having bumped up its spending to increase DOCSIS capacity across strategic areas of its footprint. 2020 should see an improvement in spending by these operators, though again not to the levels seen in 2017 and 2018.
Also on a positive note, spending on Remote PHY equipment and Virtual CCAP platforms were both up solidly for the year, as a growing number of operators began their long-term transition to distributed and virtualized architectures. That trend will only continue to ramp up over the next few years, as operators continue to modernize their networks to push fiber deeper, reduce MERs (Modulation Error Rates,) and reduce the overall costs of operating their broadband access and outside plant networks.
Focus in 2020 Shifts to Upstream Bandwidth
DAA and virtualization are but parts of major network transformation projects many cable operators are beginning or are expected to begin this year. With the DOCSIS 4.0 specification establishing a clear path forward, giving cable operators the flexibility to pursue either Extended Spectrum DOCSIS (ESD) or Full Duplex DOCSIS (FDX), operators can move ahead with their remote PHY and remote MACPHY deployments to solve immediate head-end and power consumption issues.
Also near the top of many operators' strategic initiatives for 2020 is the resolution of one of the known liabilities of cable broadband networks: limited upstream, or return path, bandwidth. Cable operators recognize that one of the liabilities they have with DOCSIS is its asymmetric design. For the most part, competitors haven't exploited this liability. But with FTTH being more widely-deployed, they can certainly point at cable's lack of upstream bandwidth and how that potentially disrupts latency-sensitive applications, such as online gaming, VR, as well as the simple uploading of photos and videos to social media. With a growing number of telcos and ISPs now offering symmetric 1Gbps services, cable operators are facing increasing pressure to expand their upstream capacity.
Most operators are still providing return band of 5-42 MHz. Using a mid-split design can push the upper limits of that band to 85 MHz, with a high split design giving operators up to 204 MHz to work with in the return path. Some large operators have already started or completed their transition to mid-split, while others are jumping directly to a high-split architecture. At 204 MHz, cable operators can offer 1 Gbps of upstream bandwidth, which matches what many telcos are offering through their FTTH networks.
But these upstream upgrades also require significant changes to the outside plant, including amplifiers and taps. For many cable operators, this isn't necessarily a bad thing, as these critical outside plant components are nearing the end of their lifespan over the next five years, after having served in broadband networks for the last 10-20 years.
vCCAP platforms can serve a key function during this transition, by giving operators more flexibility in the approach they take and which part of the outside is impacted in certain upgrade cycles. When new capacity is required, both downstream and upstream, new vCCAP servers can be quickly added in any location or existing software resources can be re-allocated to those service groups undergoing capacity upgrades. In many cases, those resources can be added much faster than they can be with a centralized CCAP platform, which would require a linecard upgrade at a minimum to support increased capacity.
Though these upgrades put a lot on the plates of cable operators worldwide, the combination of all these transitions will ultimately lead to the complete overhaul and modernization of their broadband access networks, as they continue to migrate down the path towards 1.8 GHz spectrum, Extended Spectrum or Full Duplex DOCSIS modulation, DAA, and virtualization. Again, all these changes will definitely occur in phases, as each operator weighs the vision of their future networks and services against the short- and long-term costs to get there.