Huawei Leads the $100 B Telecom Equipment Market
We just wrapped up the 3Q21 reporting period for all the Telecommunications Infrastructure programs covered at Dell'Oro Group, including: Broadband Access, Microwave & Optical Transport, Mobile Core & Radio Access Network (RAN), SP Router & Switch. The data contained in these reports suggest that the positive trends that characterized the broader telecom equipment market in the first half of 2021 extended into the third quarter, propelling the overall telecom equipment market to a sixth consecutive quarter of year-over-year (Y/Y) growth.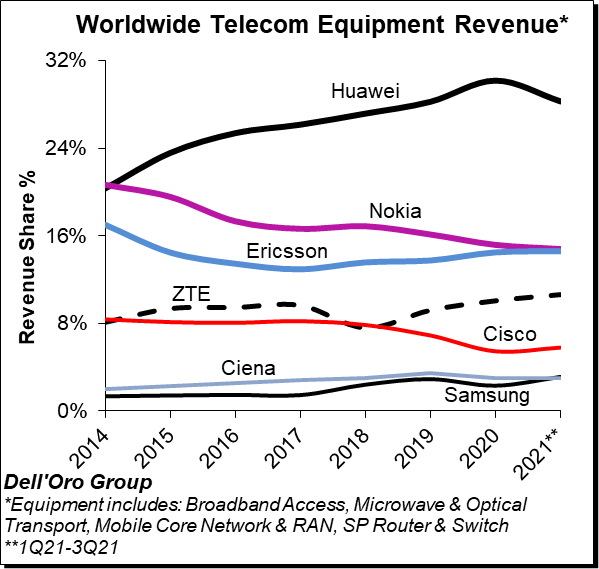 Preliminary estimates suggest the overall telecom equipment market advanced 6% Y/Y in the quarter and 9% Y/Y year-to-date (YTD). The growth in the quarter was underpinned by healthy demand for both wireless and wireline equipment.
While the majority of the suppliers were able to navigate the supply chain situation fairly well in the first half, supply chain disruptions had a greater impact in the third quarter, though clearly this was not enough to derail the positive momentum that has characterized the market over the past six quarters.
The analysis contained in these reports suggests the collective global share of the leading suppliers remained relatively stable between 2020 and 1Q21-3Q21, with the top seven vendors comprising around ~80% of the total market.
Ongoing efforts by the US government to curb the rise of Huawei is starting to show in the numbers, especially outside of China. At the same time, Huawei continued to dominate the global market, still nearly as large as Ericsson and Nokia combined.
Overall, we believe ZTE and Samsung are trending upward while Huawei is losing some ground YTD relative to 2020.
Additional key takeaways from the 3Q21 reporting period include:
Positive market sentiment in the third quarter was driven by strong growth in RAN and Broadband Access, which was more than enough to offset weaker trends in Optical Transport.
RAN and Broadband Access are also the strongest growth vehicles for the YTD period, fueled by surging demand for 5G, PON, and FWA CPEs.
With the pandemic resurging and the visibility surrounding the supply chain weakening, the Dell'Oro analyst team is expecting near-term growth to decelerate – the overall telecom equipment market is now projected to advance 2% in 2022, down from 8% in 2021.
Dell'Oro Group telecommunication infrastructure research programs consist of the following: Broadband Access, Microwave Transmission & Mobile Backhaul, Mobile Core Networks, Radio Access Network, Optical Transport, and Service Provider (SP) Router & Switch.