Outlook Remains Favorable
Preliminary findings suggest 5G NR mmWave investments improved in the fourth quarter but this was not enough to change the full-year growth momentum. Following two years of exponential growth, mmWave revenues increased 15% to 20% in 2021, propelling 5G NR mmWave to account for 1% to 2% of total sub 6 GHz plus mmWave RAN revenues.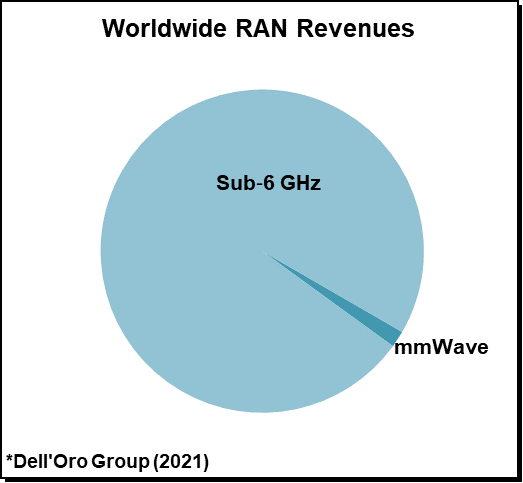 While mmWave NR investments have for the most part surprised on the upside relative to the expectations outlined three to four years ago, mmWave RAN revenues were weaker than what we outlined going into the year. Still, we are not concerned about the slowdown and the implications for the long-term business case and see this more as a short-term calibration reflecting the fact that the sub-6 GHz spectrum still provides the most compelling RAN economics.
Additional mmWave highlights from the 4Q 2021 and 5-Year RAN reports:
Ericsson leads the mmWave RAN market.
The mismatch between capex and data consumption when comparing the sub-6 GHz and mmWave spectrum will evolve gradually over time – global 5G NR mmWave revenues are projected to reach $1 B to $2 B by 2026.
Mobile remains the primary focus, however, gNB and repeater technology advancements are expected to improve the FWA business case.
Dell'Oro Group's RAN Quarterly Report offers a complete overview of the RAN industry, with tables covering manufacturers' and market revenue for multiple RAN segments including 5G NR Sub-6 GHz, 5G NR mmWave, LTE, macro base stations and radios, small cells, Massive MIMO, Open RAN, and vRAN. The report also tracks the RAN market by region and includes a four-quarter outlook. To purchase this report, please contact us by email at dgsales@delloro.com.