We just published our 3Q20 reports where we looked at how the market performed during the three-month period from July to September.
During the third quarter, revenue was up 1% Y/Y, in contrast with our prior forecast of a 7% decline. The upside surprise was driven mostly by the non-Cloud segment (which includes Telco Service Providers (SPs) Large Enterprises, and Rest of the Enterprises). In the meantime, the Cloud segment was flat, in line with our expectations but showing uneven performance across various Tier 1 and Tier 2/3 Cloud SPs.
The recovery in the non-Cloud segment was propelled by increased demand from large enterprises (which include Fortune 2000 companies and comprise about half of the sales of the non-Cloud segment). We have been predicting this segment's return to growth, as it is more economical for these enterprises with large scale to build and manage their own private data centers than to use the Public Cloud. However, to our surprise, the recovery occurred ahead of our predictions, as a result of improvement in macroeconomic conditions, easing of lookdown measures, and injection of government funding—which helped certain verticals, mainly in the public sector.
Additionally, we saw a recovery in the Telco SPs segment in the third quarter, driven by some 5G related projects, most notably in APAC regions. We also saw some growth in Telco SPs in Europe and North America (NA) as vendors such as Arista were finally able to add features to their products to tie back to legacy networks. Nevertheless, we expect demand from Telco SPs to remain lumpy. As for the Rest of Enterprise segment, we continued to see a decline, which is a trend that we do not expect to reverse due to ongoing migration to the Public Cloud.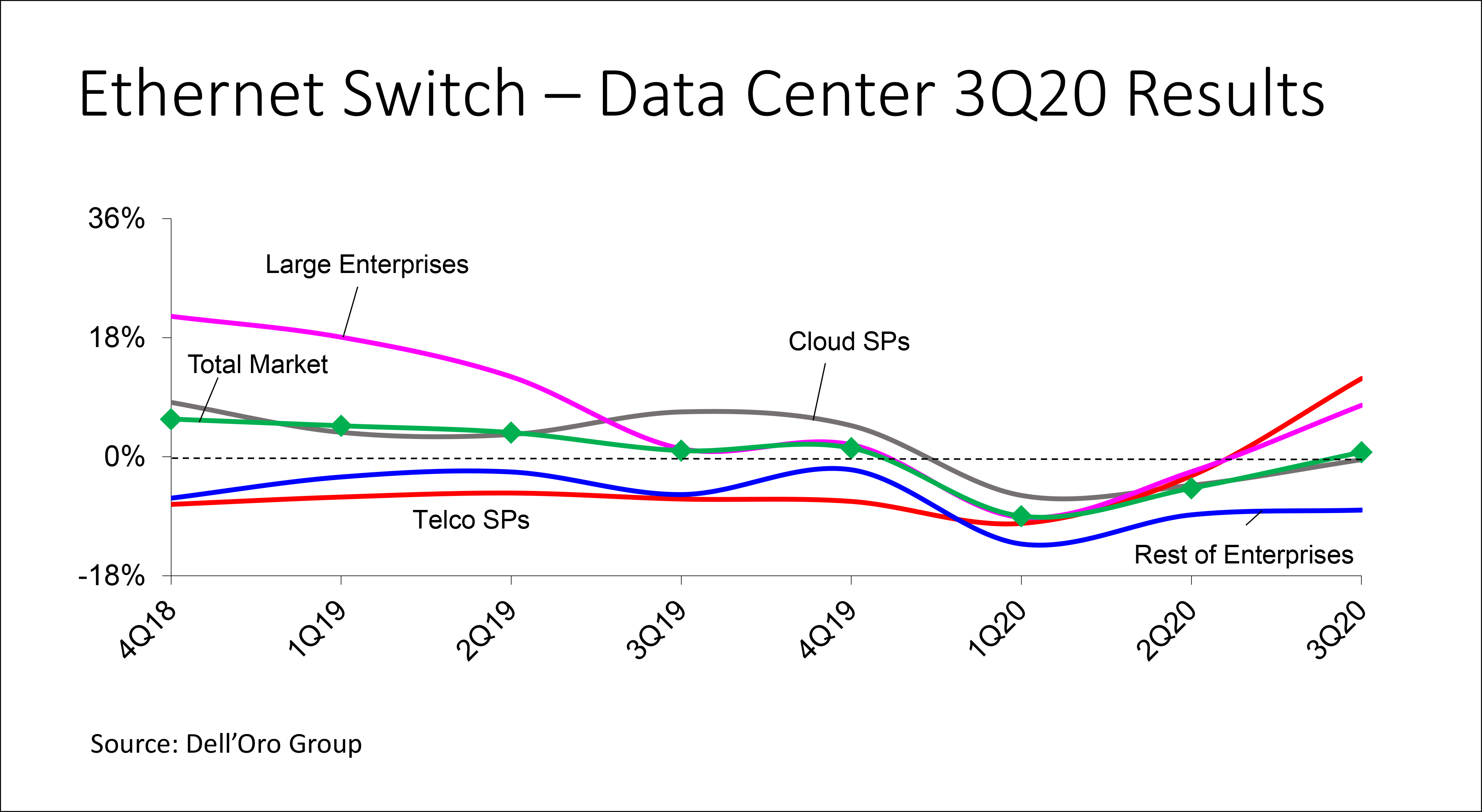 Ongoing improvement expected for the remainder of the 2020 year
Looking at 4Q20, we expect the underlying growth drivers that helped the 3Q20 recovery in the Large Enterprise segment, will continue through 4Q20. However, we may have underestimated the benefit from backlog fulfillment that may have artificially boosted the performance of the Large Enterprise segment in 3Q20. Some of the manufacturers we interviewed confirmed benefiting from backlog fulfillment during the third quarter as supply challenges improved. Those benefits from backlog fulfillment may not repeat themselves to serve as a tailwind in 4Q20. If that's the case, our 4Q20 forecast may be too high.
As for the Cloud segment, we expect to continue to see mixed performance among Tier 1 and Tier 2/3 Cloud SPs in 4Q20. In line with the 3Q20 performance, we expect network spending from some of the U.S.-based Tier 1 (for instance Facebook and Microsoft) as well as some Tier 2/3 Cloud SPs to remain soft through the remainder of the year, for reasons explained in more details in our report. We expect some of that softness to be offset by ongoing strength in spending from Chinese Cloud SPs, stimulated by an accelerated pace of digital transformation and untapped potential in the Chinese Cloud market.
For the full year of 2020, we now predict the market to decline only low-single-digit, compared to our prior forecast of mid-single-digit decline. We expect the Cloud segment to grow at a low single-digit rate, in line with our prior predictions. However, we adjusted our forecast for the non-Cloud segment from high single-digit to mid-single-digit decline, as the anticipated recovery in 2H2020 will offset some of the weakness in the first half of the year (The non-Cloud segment was down 8% Y/Y in 1H2020).
Data Center switch revenue forecast to grow high single-digit in 2021
Looking at 2021, we expect sales of data center switches to grow high single-digit. We expect the ongoing recovery in the non-Cloud segment, most of which is driven by large enterprises, will be propelled by improvement in macro-economic conditions. Recent GDP reports indicate that economists at world-leading banks are forecasting positive GDP growth in 2021, compared to negative growth in 2020. Additionally, the availability of a vaccine will boost business confidence, all helping to abate the uncertainty in the market. As for the Cloud segment, we predict a double-digit growth in network spending which will be triggered by an accelerated pace of 200/400 Gbps adoption outside of just Google and Amazon.
200/400 Gbps refresh cycle expected to accelerate in 2021
Most of the 400 Gbps adoption in the market has been so far driven by Google and Amazon. The availability of high-volume low-cost 400 Gbps optics has been the major constraint for the adoption. Additionally, adequate switch chips with the right density, power, and buffer size were needed for specific use cases at some of these large Cloud SPs to enable this transition. According to our interviews with the major chip suppliers as well as the optical transceiver vendors, we predict the 200/400 Gbps refresh cycle to start to materialize at Facebook in early 2021 and at Microsoft in the second half of 2021.
Despite our optimism, a lot of uncertainty remains in the market
Despite our optimistic outlook, we wouldn't be surprised if the market continues to show some volatility next year. The level of uncertainty in the market remains relatively high due to elevated levels of unemployment rates and bankruptcy, which may impact business confidence and suppress network spending from large enterprises and even some Tier 2/3 Cloud SPs.
Additionally, it bears mentioning that at the time of this writing, the rate of COVID-19 infections is accelerating, prompting many countries to slow business reopening, while invoking curfews and lockdowns. This may potentially suppress market growth but we believe that the impact will not be as significant as what the market has experienced with the first wave of infections and lockdowns. We believe that many vendors, as well as their customers, have figured out ways of doing business during the unusual circumstances in these unprecedented times.
All that said, although we believe the worst of the pandemic is behind us, we are all watching how fast and smooth the distribution of the vaccine will be. Until then, and until the vast majority of the population is vaccinated and builds immunity to the virus, a lot remains uncertain about the outcome of this pandemic.