In our latest forecast published in January 2021, the worldwide capex on data center infrastructure is projected to increase at a 7% compound annual growth rate (CAGR) from 2020 to 2025 to $278 billion.
We anticipate the growth of data center capex to vary depending on the customer segment. The Cloud will continue to gain share over enterprise/on-premise data center deployments, with COVID-19 accelerating Cloud adoption to some extent. Edge computing deployed over Telco networks could emerge near the tail end of the forecast period.
Among all the technology areas that we track, we forecast the cumulative revenue growth of servers to surpass that of other technology areas such as Ethernet switch, network security, optical transport, and router. Higher capex on servers will be driven by a combination of higher server unit demand from the Cloud and increasing server average selling prices (ASP). We identify some notable trends in server architecture that could have the effect of lifting server ASP for our forecast horizon.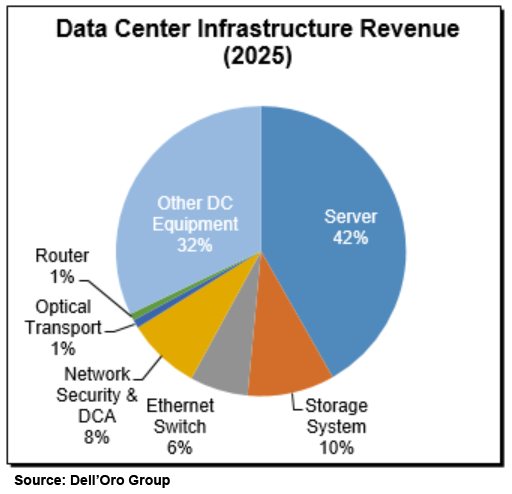 The followings are some additional highlights from the Data Center Capex 5-Year Forecast January 2021 Report:
CPU Refresh: New generation of servers are typically equipped with more memory, cores, storage, and faster I/O than the preceding generation. In 2018, server ASPs increased by 15%, partly due to the refresh of the Intel Xeon Scalable platform. We anticipate an uplift in ASP with Intel's ramp of the Whitley server platform based on the 10 nm microarchitecture.
Accelerated Computing: As the deployment of accelerated servers continues to grow, we expect that data centers will be better optimized to process AI and ML workloads with more powerful, denser, and costlier accelerated servers equipped with AI accelerator chips such as GPUs and FPGAs. Some of the Tier 1 Cloud service providers have deployed accelerated servers using internally developed AI chips. We estimate that the attach rate of servers with AI accelerators will reach double-digits by 2025.
Smart NICs: These specialized network cards typically have an on-board programmable processor, and can be configured to offload the CPU of a specific network, storage, and security services and to provide flexibility for software-defined and converged networks. Smart NICs, which carry a 3 to 5X price premium compared to standard NICs, could further inflate server ASP if deployed at scale.
These advances to server architecture will correspondingly drive innovations in the data center, such as the need for more advanced cooling solutions, additional network capacity, etc. To learn more about Data Center Infrastructure and Server spending, or if you need to access the full report, please contact us at dgsales@delloro.com.
Dell'Oro Group's Data Center Capex 5-Year Forecast Report details the data center infrastructure capital expenditures of each of the ten largest Cloud service providers, as well as the Rest-of-Cloud, Telco, and Enterprise customer segments. Allocation of the data center infrastructure capex for servers, storage systems, and other auxiliary data center equipment is provided. The report also discusses the market and technology trends that can shape the forecast.