The latest Dell'Oro Group Telecom Capex 2H18 Report (former name is Carrier Economics report) supports the thesis the firm has communicated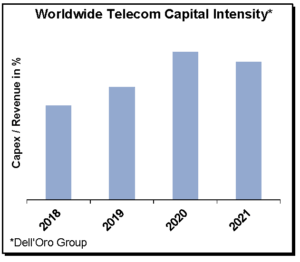 with its technology equipment forecasts, namely, there are reasons to be optimistic about the telecom sector. Following three years of declining capex trends between 2015 and 2017, and more stable trends in 2018, the report showed that capex growth will outpace operator revenue growth over the next three years, reflecting operators increased focus on rolling out 5G.
"While the relationship between capex/revenue will likely remain strong over time and constrained operator revenue growth will be one of the primary inhibitors of further telecom capex acceleration, we remain optimistic that there will be some deviation in the short-term to accommodate the rollout of 5G," said Stefan Pongratz, Senior Director at Dell'Oro Group. "And with the preliminary 5G capex guidance coming in stronger than expected, there is a lot of excitement right now about the potential 5G capex ramp," continued Pongratz.
Followings are additional highlights from the Telecom Capex 2H18 Report:
Currency adjusted telecom capex is expected to grow both in 2019 and over the next three years.
Wireless investments are projected to grow at a faster pace than wireline capex over the forecast period – growing at a low single-digit CAGR.
5G revenue growth is not expected to reverse aggregate smartphone ARPU trends over the forecast period.
The Dell'Oro Group Telecom Capex Report provides in-depth coverage of the revenue, capex, and capital intensity outlook for about 50 operators. The report provides actual and forecasts details by the carrier, by region by country (United States, Canada, China, India, Japan, and South Korea), and by technology (wireless/wireline).  For more information about the report, please contact dgsales@delloro.com.