An increasing amount of publicity is shifting to user applications, and away from the network. Enabling the user to extract more value out of the network is the topic of acquisitions and new product launches. For example, Arista recently acquired Mojo Networks not for its wireless LAN technology, but for its ability to deploy network intelligence; Cisco launched greater levels of security and troubleshooting enabled by its new DNA licenses; Juniper acquired Mist Systems which boasts its cutting-edge location Wi-Fi services. Yet, a closer look at companies such as Alcatel-Lucent Enterprise (ALE) and Extreme Networks, we observe these folks have been laser-focused on user applications all along. Let's first discuss ALE.
ALE recently celebrated its centennial with a conference including some 1,000 partners, as well as 100 industry members of the press and analysts. Enthusiasm and energy levels were high.
Here's what I think is important:
ALE has a long-running subscription-based business. As the networking industry incorporates applications and network intelligence via subscription-based services, this experience on ALE's part will be a definite asset. In 1919, ALE founder Aaron Weil launched a subscription-based private telephone business, "Téléphone Privé," as a productivity enhancement tool targeting enterprises.
ALE's near-term strategy will be to target select vertical industries focusing on applications specific to customer operations.  ALE's focus on customer applications is the likely explanation as to why its customers place a high value on ALE's products. For example, in Campus Ethernet Switching, we observed that ALE's average prices for the past few years have been the third highest, well above many other larger vendors.  Figure 1 shows how ALE's average sales price per port compares with that of the largest vendors in the most popular segment of the Campus Ethernet Switch market (Fixed Managed 1 Gbps switches). ALE senior management explained that the customer interaction process has included building custom applications by vertical industry. Whenever ALE could not on its own deliver the application, it brought in a partner that specialized in the operations of businesses in that particular vertical industry. This high-touch approach to service helps explain ALE's ability to maintain high perceived value as reflected in its average prices.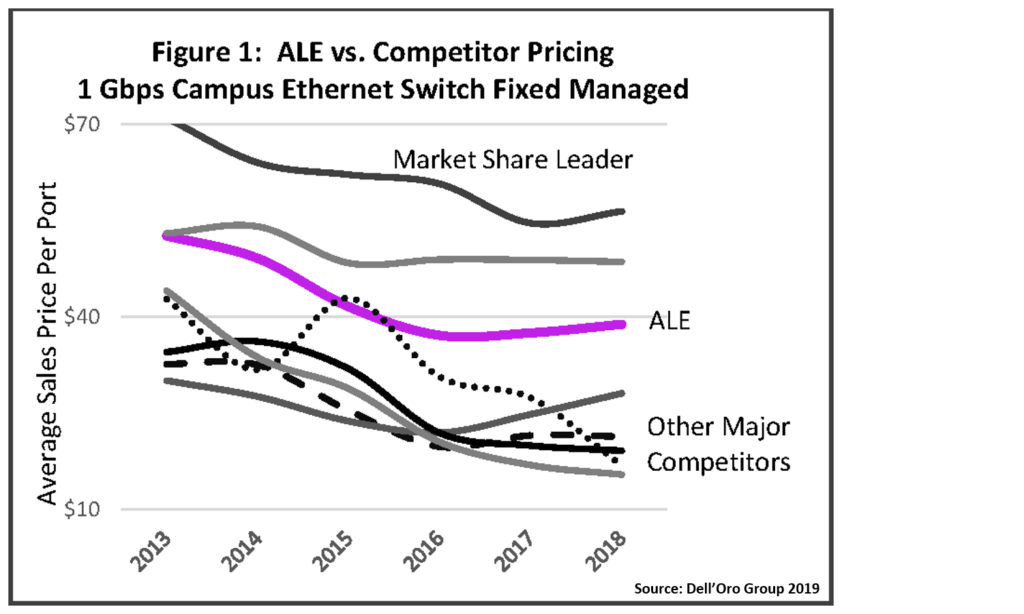 ALE's networking business (Campus Ethernet LAN in particular) was challenged in 2017 and 2018, which we attribute largely to Huawei's expansion in Europe, the Middle East and Africa (EMEA), the region representing ALE's stronghold. During the past two years, Huawei has run aggressive promotions with new channel partners it added in 2016.  As the honeymoon period for these engagements comes to a close, we suspect the longer-term relationships with its new partners will change. Looking at the Campus Ethernet market on worldwide units (port shipments) basis, the performance was flat during the past two years, with the exception of China-based vendors, as well as vendors such as Ubiquiti that are targeting the low end of the market. The challenges ALE experienced on a unit basis was similar to the experience of other Western vendors focusing on the high-end and midrange segments of the market.
Dell'Oro Group believes that enterprise campus networks are entering a refresh cycle that will enable users to run new applications (click here to learn more about Dell'Oro Group Ethernet Switch Campus Network market report). This refresh of the installed networks, which will unfold over the next several years, will be the most significant upgrade during the past two decades—and many will be seeking high value from their networks, not the cheapest price.