Telecom Equipment Growth is Slowing
Following four consecutive years of modest telecom equipment growth across the six telecom programs[1] tracked at the Dell'Oro Group, the challenge now is that 5G comparisons are becoming more challenging in some of the advanced markets. The implications are that growth will slow. Our position, however, has not changed – 5G and fiber have more to expand, and we are still forecasting the overall telecom equipment market to advance for a fifth consecutive year in 2022.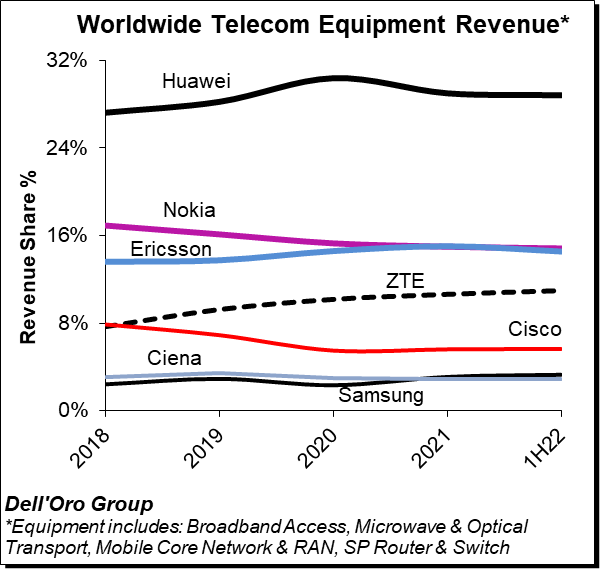 Preliminary findings show that the aggregate telecom equipment market moderated somewhat from the 7% revenue increase in 2021 to 3% year-over-year (Y/Y) during 1H22. In addition to more challenging comparisons in the advanced 5G markets, component shortages, the strengthening USD, supplier exits in Russia, and slower wireless activity in Japan and India weighed on some of the technology segments in the first half. While the deceleration was expected going into 2022, the slowdown in the second quarter was a bit steeper than expected as surging demand for broadband equipment was barely enough to offset tepid Y/Y developments in RAN, optical transport, and routers.
Regional dynamics were mixed with North America and China growing at a double-digit rate and a high single-digit rate Y/Y in the first half, respectively. Market conditions were more challenging in the broader Asia Pacific region (APAC). And following two consecutive years of healthy growth in Europe, our initial findings suggest total telecom equipment revenues turned negative in the second quarter on a Y/Y basis, reflecting the stronger USD and supplier exits in Russia.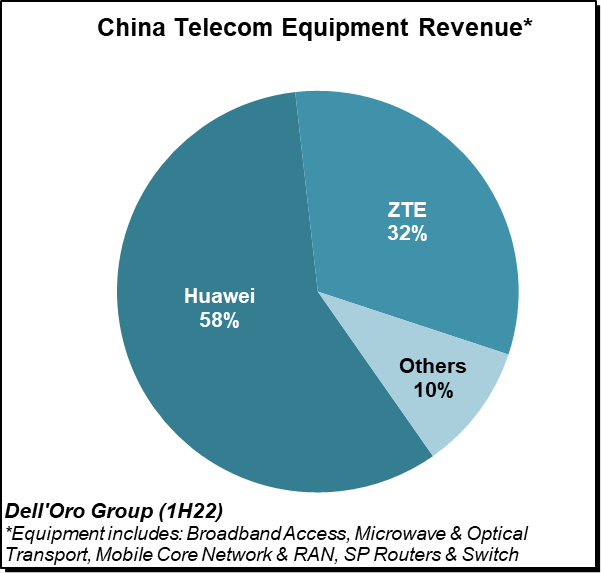 Vendor dynamics were relatively stable between 2021 and 1H22, with the top 7 suppliers driving around 80% of the overall market. While Huawei benefitted from its leadership position in China during 1H22, its revenue share decline outside of China was negligible – we estimate Huawei accounted for 18% of the 1H22 market.
Even as the financial markets are going through some painful times and concerns about high inflation and energy costs are rising, the Dell'Oro analyst team has collectively not made any major adjustments to the short-term outlook. Global telecom equipment revenues are projected to increase 4% in 2022 and record a fifth consecutive year of growth. Risks are broadly balanced but tilted to the downside. Findings from Dell'Oro's recently published Telecom Capex report suggest that the majority of the operators are not revising their capex guidance at this juncture, however, USD-based capex projections have been revised downward to reflect the USD gains against most other major currencies in recent months.
---
[1] Telecommunications Infrastructure programs covered at Dell'Oro Group, include Broadband Access, Microwave & Optical Transport, Mobile Core Network (MCN), Radio Access Network (RAN), and SP Router & Switch.