As we enter the New Year, we pause to reflect on 2022 and look to 2023. In the last year, for the Mobile Core Network (MCN) and Multi-access Edge Computing (MEC) market, we focused on the momentum for 5G Standalone network deployments by MNOs, 5G Mobile Private Networks, and 5G Workloads moving to the Public Cloud. As we started the year, the hopes were high for all three of these segments, with much press coverage at the Mobile World Congress (MWC) in Barcelona. As the year unfolded, all three disappointed, not living up to the expectations.
5G Standalone (5G SA) Deployments
By the end of 2022, we had identified 39 MNOs that had deployed 5G SA eMMB networks. The list below does not cover MNOs that may be offering 5G SA private networks or 5G FWA networks only, which there are some. Unexpectedly, only 16 MNOs were added to the list in 2022, compared to 15 in 2021. There were hopes early in the year that many more would be launched in 2022, but the hopes were lowered as the year progressed. We even wondered if 2022 would equal 2021 as the year drew to a close.
Commercially Deployed 5G SA eMMB Networks by MNO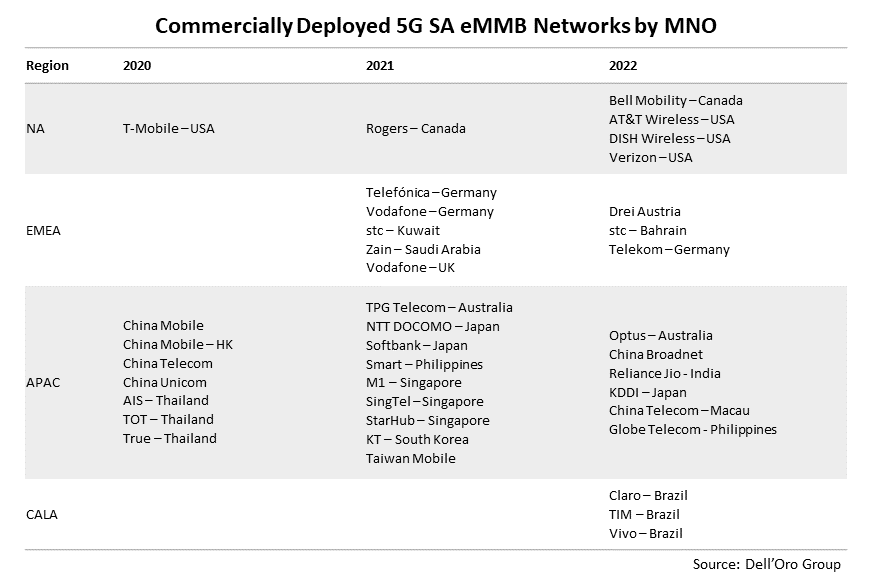 Reliance Jio, China Telecom-Macau, and Globe Telecom came to the rescue in the fourth quarter to push 2022 over 2021 for the number of 5G SA eMMB networks launched. This was a disappointment in contrast with over 200 5G Non-standalone (5G NSA) networks and over 700 LTE networks that could be implementing 5G SA networks.
5G Mobile Private Networks (MPN)
At the beginning of the year, it wasn't easy to keep up with the plethora of press releases of vendors entering the private network space. We focused on Shared and Dedicated MPNs by MNOs in 2022.
Mobile Private Network (MPN) Deployment Options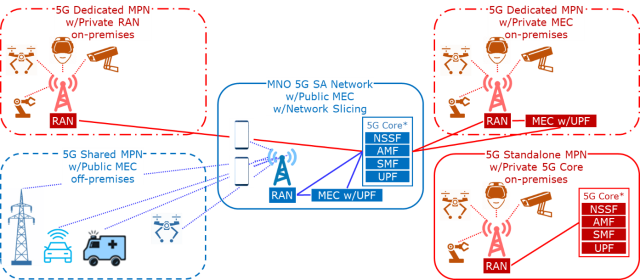 The surprise for the year was China's success with MPNs, compared to the worldwide market, excluding China. Chinese MNOs had deployed over 5,000 MPNs—employing Private and Public MEC and Network Slicing—as of June 2022, since beginning in June 2020. The Chinese MNOs reported they have over 20,000 MPNs in their respective pipelines to implement. We identified two "killer applications" in the Chinese market. Cloud gaming for Shared MPNs and Computer Vision for Public, Dedicated, and Standalone MPNs. We estimate that the Chinese MNOs account for over 90% of the MPNs in the world. So the other surprise is that the worldwide market, excluding China, is far behind in MPNs. We believe MPNs are a vital opportunity for MNOs to monetize their 5G SA investments and increase their ongoing revenues.
5G Workloads Moving to the Public Cloud
DISH Wireless made a big splash in 2022, building its 5G SA network with its 5G Workloads integrated into the Public Cloud of a Hyperscale Cloud Provider (HCP) as promised. A lot of press had been given to this concept at MWC – Barcelona, but interest has since waned.
HCPs Integrating 5G Workloads into the Public Cloud
HCPs are now focused on attracting their Information Technology (IT) customers to use HCPs' services and applications for their 5G Operational Technology (OT) services and applications. A better solution might be for MNOs to integrate HCPs services and applications into the MNOs. Many MNOs have implemented this strategy, gaining more traction in the marketplace.
MNOs integrating HCPs and other 3rd Party Services and Applications Into the 5G Telco Cloud

As 2022 numbers close, it looks like 2022 will be marginally better than 2021 concerning manufacturers' revenues for 4G Core, 5G Core, and IMS Core. We expect higher revenues in 2023 over 2022 as we anticipate more growth in 5G Core revenues as more coverage is added to existing 5G SA networks by MNOs and as new MNOs launch their 5G SA networks.