With 5G and the overall RAN market coming in a lot faster for the full-year 2020 relative to the projections we outlined a year ago, the time is right to review our 2020 projections and discuss the 2021 outlook.
2020 Predictions Are Mixed
First when it comes to the accuracy regarding the 2020 predictions we outlined a year ago, the results are mixed. Preliminary findings suggest that we correctly identified the high level trajectory for both 5G and RAN. But at the same time, we underestimated how fast some of the 5G developments are moving. Below is a quick summary of some of these predictions:
| | |
| --- | --- |
| Forecast | Status |
| RAN market to advance 4% in 2020 | RAN market is growing at the fastest pace since 2011, spurring upward revisions |
| Early adopters to embrace 5G SA | Revenues for the 5G Core market are expected to approach $1 B for 2020 |
| More than 100 M transceiver | Total transceiver shipments remain on track to approach the 0.1 B to 0.2 B range |
| 5G NR indoor small cell market to surpass LTE | 5G NR pico revenues are on track to comprise more than half of total pico capex |
| Millimeter wave (mmW) to approach 10% of 5G NR small cell installed base | This is falling short, partly because of strong sub 6 GH small cell NR uptake |
| Forecast: 5G NR subscriptions to approach 200 M | 5G subs will approach 0.2 B to 0.3 B in 2020 (Ericsson Mobility Report) |
Total RAN Market to Advance in 2021
As we discussed in the 3Q20 RAN report, we are projecting the overall RAN market to advance for a fourth consecutive year in 2021. While we are fully aware that the RAN market has only recorded a 4-year+ growth streak once in the 20 years we have tracked the mobile infrastructure market, we recently adjusted the near-term outlook upward, reflecting improved outlooks in multiple regions resulting in a more favorable outlook both including and excluding China.
We have adjusted the near-term outlook upward in the North America region to reflect the improved market sentiment and higher baseline. Low-band activity is expected to remain elevated while mid-band activity is projected to improve, with T-Mobile moving ahead at full throttle and C-Band deployments picking up pace in 2H21, though the timing of the C-band availability remains uncertain.
5G RAN and Core Revenues to Top $20 B in 2021
Total 5G RAN and core revenues are accelerating at a faster pace in 2020 than originally expected, reflecting not only the stronger than expected upside in China but also positive developments in North America and Europe. These trends are expected to extend into 2021, underpinned by elevated 5G capex levels in the advanced MBB markets including China and North America and improving market sentiment in slower to adopt MBB markets.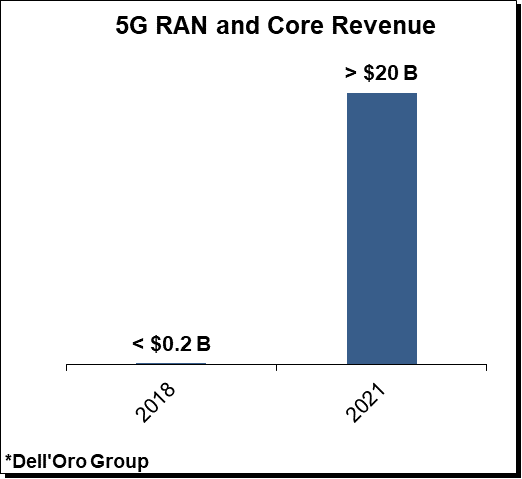 Within the 5G mix, the ascent will be uneven with 5G core capex growing at a faster pace than NR revenues, solidifying the message we have communicated for some time, namely that the 5G Core/5G RAN ratio will trend below historical core/RAN averages in the initial 5G wave and then gradually improve as operators start embracing 5G SA.
Massive MIMO Investments to Surpass $10 B
For a technology that was initially viewed as being mostly a fit for hotspot scenarios, Massive MIMO has come a long way, accelerating at a much broader and faster pace than initially expected. Preliminary estimates suggest Massive MIMO RAN investments remain on track to surpass $10 B for the full-year 2020, up nearly 20-fold in just two years. And even as the focus NR coverage is expanding beyond the urban areas, the technology is projected to play a pivotal role in 2021, not just in high traffic areas.
Small Cells to Account for 10% to 20% of Total RAN
The global growth outlook for small cells – including sub 6 GHz and mmWave – remains favorable, underpinning projections the technology will play an increasingly important role supporting the overall RAN network as operators and enterprises navigate new technologies, spectrum bands, and use cases.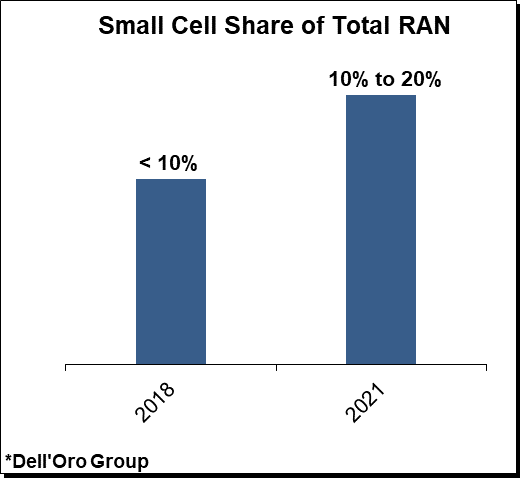 Small cell RAN revenues are projected to approach 10% to 20% of the overall RAN market in 2021. Within the small cell mix, Sub 6 GHz capex is expected to characterize the lion share of the investments, driven partly by the reduced gap between macro and small cell radios associated with upper mid-band deployments.
mmWave Shipments to Surpass 0.1 M
Preliminary 3Q20 findings suggest 5G NR mmWave RAN revenues more than doubled year-over-year for the 1Q20-3Q20 period. Helping to explain this output acceleration is the improved activity in both the US and Japan.

And while outdoor mmWave deployments have surprised on the upside, indoor mmWave have disappointed partly because the viability of the indoor mmWave market remains uncertain. With products coming to market and service providers ramping up trial activity, we remain hopeful commercial indoor mmWave deployments will become more meaningful in 2021.
Open RAN to Account for 1% to 2% of Total RAN Market in 2021
Open RAN and Virtual RAN continues to gain momentum, bolstered by Ericsson now formalizing its support with its Cloud-RAN announcement. The uptake remains mixed between the various Open RAN segments, as noted with our 3Q20 Open RAN update. These trends are expected to extend into 2021, with adoption accelerating in some RAN settings while the uptake remains weak in other RAN segments.
FWA RAN Revenues to Surpass $1 B
Preliminary estimates suggest the demand for Fixed Wireless Access (FWA), including both the mobile network and dedicated fixed deployments, continued to accelerate in the third quarter of 2020, with FWA related RAN investments on pace to advance at a double-digit pace in 2020. With more than half of the operators now offering some form of FWA and the number of service providers offering FWA on the rise (GSA, Ericsson Mobility Report), the outlook for FWA RAN remains favorable, adding confidence FWA will comprise a growing share of the overall RAN capex in 2021.