Preliminary estimates suggest the small cell radio access network (RAN) market (excluding residential small cells) approached 1 to 1.5 M units in the first half of 2020, comprising a double-digit share of the overall RAN market. Aggregate small cell growth is tracking slightly below expectations, partly due to logistical challenges associated with the pandemic. At the same time, small cell RAN revenues improved more than 20% Q/Q in the second quarter, adding confidence the bulk of these transitory challenges are now in the past and are unlikely to impact the long-term demand for small cells.
The global growth outlook for small cells remains favorable, underpinning projections the technology will play an increasingly important role supporting the overall RAN network as operators and enterprises navigate new technologies, spectrum bands, and use cases. Cumulative global small cell RAN investments remain on track to approach $25 B over the next five years, advancing at a substantially faster pace than the macro RAN market. Helping to explain this output acceleration is broad-based acceleration across both the indoor and outdoor domains.
The high-level vision has not changed. We expect unlicensed Wi-Fi systems to coexist with cellular technologies. For upper mid-band deployments, operators will need to advance indoor deployments rapidly while the sub 6 GHz micro adoption phase will be more gradual.
Sub 6 GHz small cells, including CBRS, are projected to account for more than 80% of the cumulative small cell market, reflecting the need for operators to complement upper mid-band outdoor deployments with indoor small cells to optimize the combined experience.
Since the last forecast, we have adjusted the cumulative 2019-2024 outdoor micro-small-cell outlook upward, driven primarily by a more favorable outdoor mmWave forecast. With the North American operators leading the way in mmWave, the upward revision is primarily driven by the improved momentum in the Asia Pacific region. In addition to on-going large scale deployments in Japan, the Korean operators are moving forward with plans to deploy mmW for hotspot and smart factory applications. Activity is also picking up in China.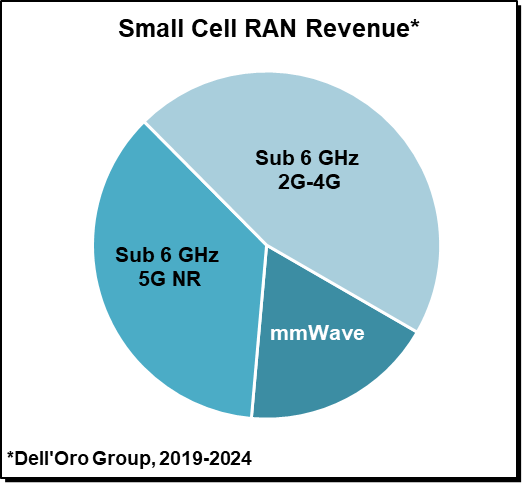 Reflecting back on how we envisioned the market would unfold just a few years back, it is fair at this point to conclude that the outdoor mmWave market has surprised on the upside. At the same time, the indoor mmWave market has disappointed somewhat, reflecting the uncertainty about the timing of this market opportunity. Recent developments with suppliers, including Samsung, announcing the commercial availability of indoor mmWave systems add confidence about future growth prospects.
Preliminary 1H20 estimates suggest the top 5 macro-RAN suppliers accounted for more than 90% of the small cell market. With nearly 30 suppliers planning to support various forms of small cell technologies capitalizing on new opportunities emerging with private wireless, CBRS, Open RAN, and mmWave deployments, it will be interesting to monitor the dynamics between the incumbents and new entrants or small cell suppliers with weaker RAN footprints.
About Dell'Oro Small Cells RAN coverage, please refer to:
Dell'Oro Group's Quarterly RAN and 5-Year Forecast RAN Reports offer a complete overview of the non-residential small cell RAN market by RF output power (pico and micro) and technology (LTE, 5G NR Sub 6 GHz, 5G NR Millimeter Wave), with tables covering manufacturers' revenue and unit shipments.
Dell'Oro Group's CBRS Report offers a complete overview of the CBRS Small Cell RAN market opportunity.
If you want to get a copy of the above report(s), please contact us (dgsales@delloro.com) for more details.