We recently completed our 1Q 2021 Network Security and Data Center Appliance report that spans the Network Security and Application Security & Delivery Markets.  A year since the arrival of the Covid-19 pandemic and the ensuing weakness in both markets, the worst of the recent market weakness appears behind.  Our data suggests enterprises are fueling growth in both markets due to five reasons:
Improved confidence in the macro-economic outlook: A year since the arrival of the Covid-19 pandemic, the worst appears behind us, and the light of the end of the dark tunnel is growing brighter. Vaccination rates are increasing–albeit for some countries and regions not fast enough–and the lifting of lockdowns is leading to increased economic activity. This, in turn, is being accelerated by economic stimuli by central governments.
Increased spending on technologies to support hybrid work: Although governments are scaling back shelter-at-home mandates, we see a growing number of enterprises embracing hybrid work as a long-term strategy. Hybrid work–time split between the corporate office and the home–is expected to be part of the new post-pandemic normal.
Increased spending on technologies that enabled the Internet-based application infrastructure: The pandemic forced business to be conducted online instead of in person. While some enterprises had completed the multi-year journey toward full digitalization by the time the pandemic arrived, many had not. Even with pandemic subsiding, we anticipate continued investment in digitalization efforts by the many enterprises still mid-journey.
Need for greater capacity: As the size of Ethernet pipes–now 400GbE readily available –and global data in transit continues to grow, it drives upgrades of network security and application infrastructure.
Seeking state-of-the-art security to thwart latest threats: Security breaches and attacks continue unabated, as evident in the recent spate of high-profile ransomware attacks at Colonial Pipeline, the largest pipeline system for refined oil products in the U.S., and JBS Foods, the world's largest meat producer.
The Network Security market, which includes the Firewall, Secure Web Gateway (SWG), and Email Security technology segments, continued its rebound by growing 8% year-over-year (Y/Y) in 1Q 2021. Meanwhile, the Application Security & Delivery market, which includes Web Application Firewall (WAF), and Application Delivery Controller (ADC) technology segments, rose 17% Y/Y.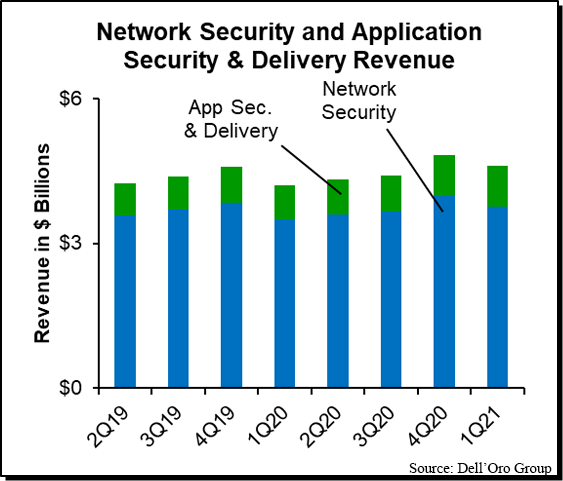 Additional key takeaways from the 1Q 2021 report period include:
Revenue growth in both the Network Security and Application Security & Delivery markets could have been more robust if not for the ongoing global semiconductor crunch. Our analysis showed a low, single-digit impact in the physical appliance portion of these markets in 1Q 2021.
Firewalls had a good quarter by historical standards with double-digit Y/Y growth. Growth was broad-based, with both virtual and all physical appliance sub-segments (Low End, Midrange, and High End) gaining ground.
SWGs were up double-digit Y/Y as enterprises prioritized moving away from legacy VPNs and embracing cloud-based security solutions that promise better flexibility, control, and threat visibility.
Email security rose by single-digit Y/Y based on the continued spread of malware primarily via email.
WAF revenue grew by double-digit Y/Y driven by the continued priority placed on securing Internet-facing applications.
ADCs rose by high single-digits Y/Y after spending most of 2020 in low, single-digit growth.
Overall, we adjusted our forecast for 2021 and now project that the sum of the Network Security and Application Delivery & Security markets will hit double-digit Y/Y growth instead of single-digit Y/Y growth.
To learn more about the Dell'Oro Group Network Security and Data Center Appliances market report, please click here or email us at dgsales@delloro.com for report subscription information.