Following four consecutive years of modest telecom equipment growth across the six telecom programs tracked at the Dell'Oro Group*, preliminary findings show that the aggregate telecom equipment market moderated somewhat from the 8% revenue increase in 2021 to 3% year-over-year (Y/Y) in 2022.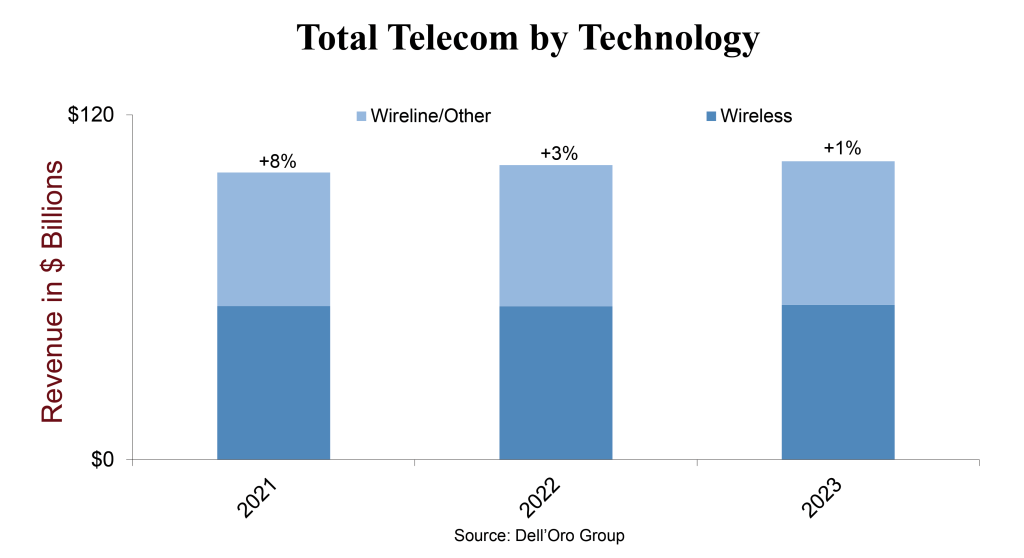 Looking back at the full year, the results were slightly lower than the 4% growth rate we projected a year ago going into 2022. In addition to more challenging comparisons in the advanced 5G markets and the supplier exits in Russia, the strengthening USD weighed on the broader telecom equipment market. Supply issues also impacted the market negatively during 1H22 but eased somewhat in the second half.
Regional developments were mixed, underpinned by strong growth in North America and CALA, which was enough to offset more challenging conditions in EMEA and the Asia Pacific. With China growing around 4%, we estimate global telecom equipment revenues excluding China increase around 3% in 2022.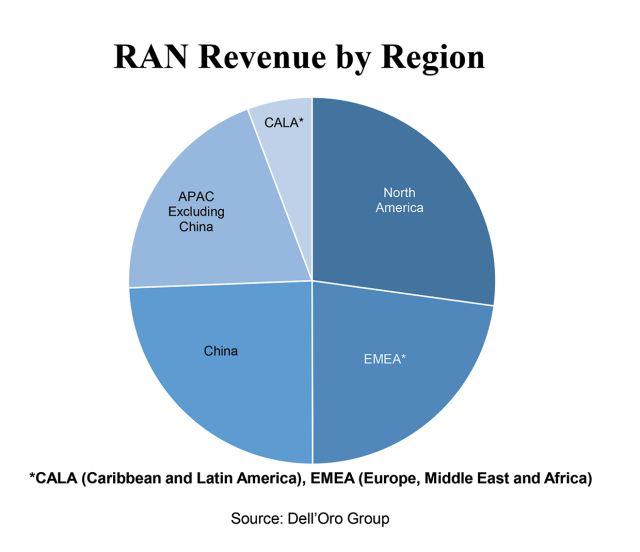 From a technology perspective, there is a bit of capex shift now underway between wireless and wireline. Multiple indicators suggest Broadband Access revenues surged in 2022, however, this double-digit growth was offset by stable or low-single-digit growth across the other five segments (Microwave Transport, Mobile Core Network, Optical Transport, RAN, SP Router & Switch).
Vendor dynamics were relatively stable between 2021 and 2022, with the top 7 suppliers driving around 80% of the overall market. Despite on-going efforts by the US government to limit Huawei's TAM and access to the latest silicon, our assessment is that Huawei still leads the global telecom equipment market, in part because Huawei remains the #1 supplier in five out of the six telecom segments we track. At the same time, Huawei has lost some ground outside of China. Still, Nokia, Ericsson, and Huawei were the top 3 suppliers outside of China in 2022, accounting for around 20%, 18%, and 18% of the market, respectively.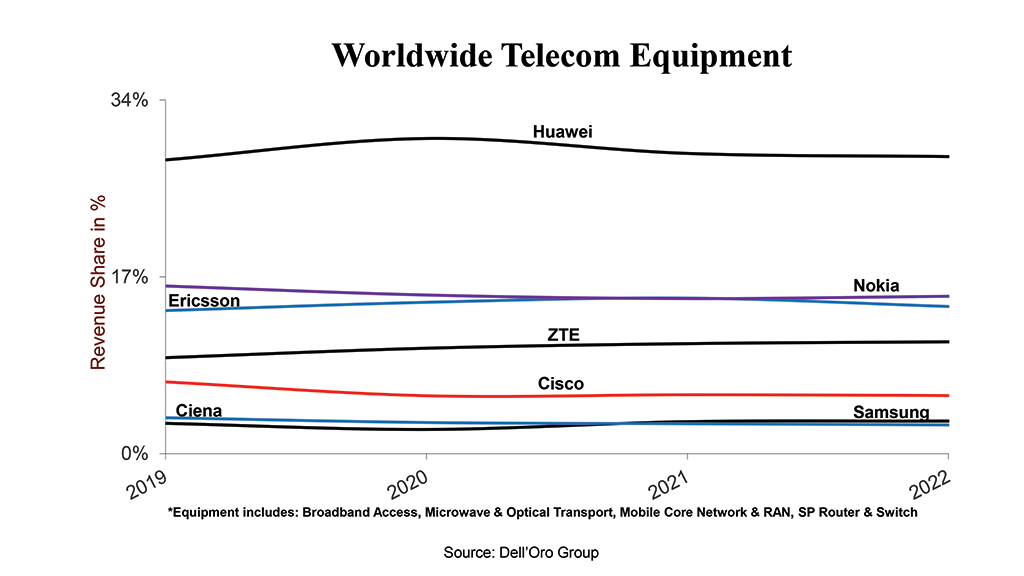 Following five consecutive years of growth, the Dell'Oro Group believes there is more room left in the tank. Collectively the analyst team is forecasting the overall telecom equipment market to increase 1% in 2023 and record a sixth consecutive year of growth. Risks are broadly balanced and the analysts will continue to monitor the 5G rollouts in India, capex cuts in the US, and 5G slowdown in China (preliminary data by MIIT suggest new 5G BTS volumes will drop by a third in 2023 relative to 2022), wireless and broadband investments in Europe, forex fluctuations, and inventory optimization.
*Telecommunications Infrastructure programs covered at Dell'Oro Group, include Broadband Access, Microwave & Optical Transport, Mobile Core Network (MCN), Radio Access Network (RAN), and SP Router & Switch.